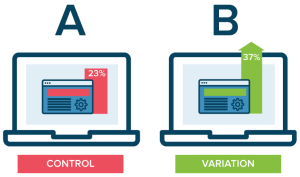 Have you ever wondered what A/B testing is? Well check out this video about A/B testing that will explain what it is.
The most important part about split testing is doing it based on data. Many people just test based on what they guess could work. Statistics says that this might work in 1/7 of the times testing, but if you base it on data it will work 1/2 or 1/3 or the times.
Check out the video, it's just a short introduction but it shows what A/B testing is and how to do it – and how not to do it.
Many big e-commerce owners I talk to have never even tried A/B testing or have tried but have not been sure on the results. They often also think it is quite expensive when you need to hire someone to find the data, pay for the tools and then also pay for the development costs. But in my opinion it is totaly worth it, as long as you've got 1000 transactions or more per month.
Svensk version:
Har du någonsin underat vad A/B testing är för något? Kolla in videon nedan där de förklarar.
Det viktigaste är att du split testar baserat på data och inte bara gissningar. Titta var din sida läcker pengar, bygg hypoteser på det och gör ett test.
Kolla in videon nedan: